YES! We Deliver It!
To Orillia and surrounding areas
We deliver both small and large amounts.
Our products are sold at our Oro-Medonte location and we offer you the opportunity to pick up or delivery (call for pricing), whatever is easier for you!
Call us at 705-3251201 to order the product you need.
Yard in a Bag
Have your material dumped in your driveway, helps keep it clean and convenient in our neat and tidy 1-yard bags. The 1-yard bag allows a product to stay dry as it is closed at the top. The 1-yard bag is delivered by our boom truck, we do these deliveries on Tuesdays or Thursdays.
You can also pick up your materials at our Yard if you have a Truck or Trailer at 107 Forestview Road. See Map
Delivery pricing, as our price depends on products ordered and is based on your location.
Please call in for pricing and our friendly staff will be happy to help you.
HOW MUCH DO YOU NEED?
Some Conversions for deliveries, truck or trailer…
Please find information below that may help you with your orders; if you have any questions please do not hesitate to contact us.
DELIVERIES – QUANTITIES
Yard in a Bag  is a bag that holds 1 Yard (volume) or 1 Tonne (weight) (approximately, depends on product)
Tandem can hold approximately 14 metric tonnes or approximately 10 yards.
TON VS. TONNE
In the United States, a ton is a unit of measurement equaling approximately 2,000 pounds. A tonne, also known as an imperial ton, is a unit of mass equaling approximately 2204.6 lbs or 1000kg
This equal a difference of approximately 205 lbs or 93kg
How many LBS can your Truck or Trailer hold!?
A light truck should be able to carry 800 pounds approximately
A Pickup truck is typically designed for half ton (1000 lbs or454.60 kg approx.)
A Three-quarter ton (1500 lbs or 680.39 kg approx.)
A One-ton (2000 lbs or 907.20 kg approx.) capacities.
Please look at your owner's manual, as this will tell you what your truck is rated for
(please remember to deduct weight of passengers in vehicle when picking up product)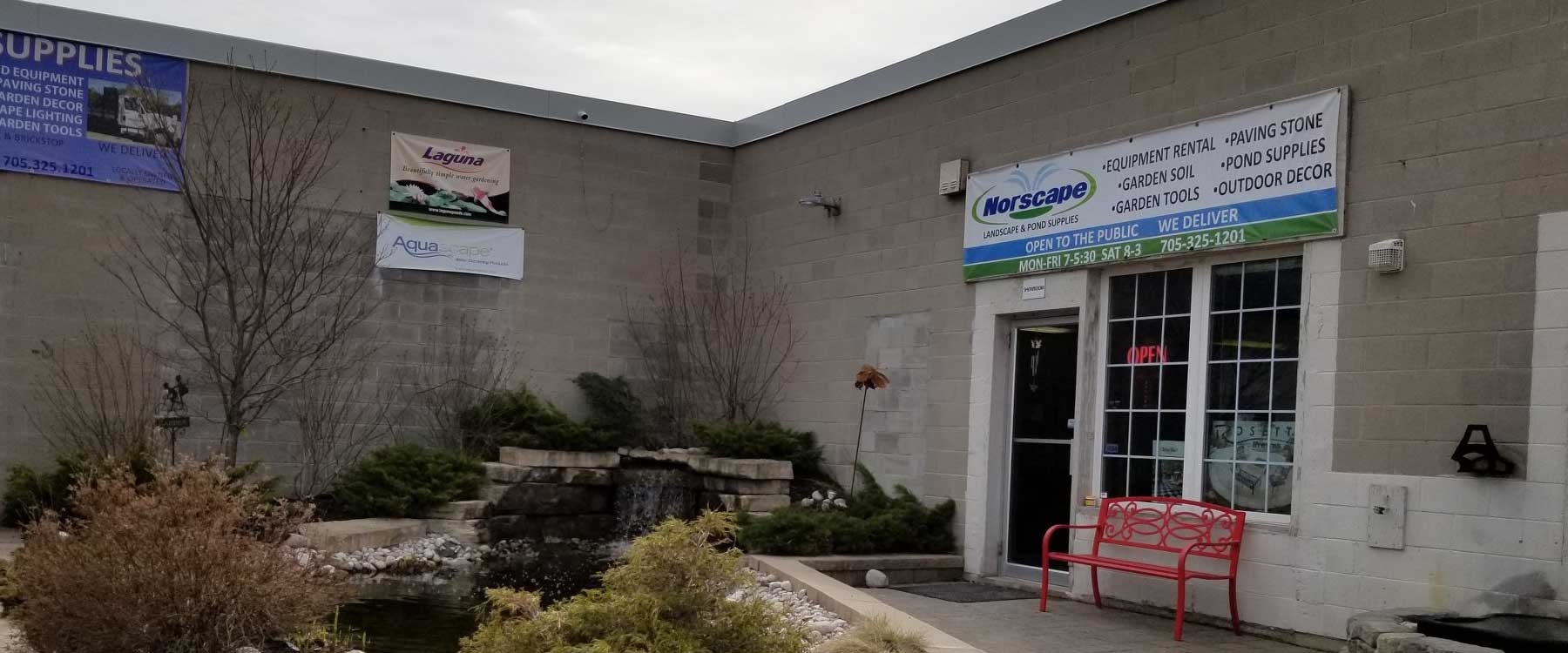 HOW TO FIND US
107 Forest View Road, Oro-Medonte, ON L3V 0R4
Our winter business hours are:
starting October 10th 2023
Monday- Friday 8am to 4:00pm
Saturday – Sunday: Closed
If you require assistance on off hours,
please call 705-325-1201.
Phone: 705-325-1201
Email: norscape@bellnet.ca
DELIVERY POLICY
TERMS & CONDITIONS
Under no circumstances shall the company or its affiliates, partners, suppliers or Licensors be liable for any indirect incidental, consequential, special or exemplary damages arising out of or in connection with your access to company property.  Clients picking up product are responsible to ensure their loads are safe for transporting as per Highway act.
By placing an order through this web site, you agree to the following:
DELIVERY DISCLOSURE
We offer scheduled delivery of all our products. Our delivery system is an affordable, safe, and reliable service that can save you time and effort. Please note that our materials can be very heavy and can be problematic in handling. Allow our trained delivery staff to manage your product with the ease of our equipment and fleet of delivery trucks.
Please note that we offer placement of material to assist you and your landscape needs. Based on your placement requests, we will choose an appropriate time for your delivery that suits both parties' availability. Please consult with our staff for additional expenses for placement. Our drivers are not responsible for your landscape design, and hourly fees will be charged for additional time spent on a client's job site.
We guarantee curbside delivery only, meaning product will be placed on the client's property just beyond the curb or road line.
We deliver on your property only, and will not enter neighbors or public property, and any other land that is not yours, without verbal or written permission from the respective party. We waive responsibility of all damage or fines if requested to enter the premises listed above accompanied by permission.
The purchaser shall supply satisfactory access roads to unloading sites with sufficient maneuvering space for our trucks and will assume the responsibility for all damages, fines, or charges caused during a delivery. Our drivers reserve the right to refuse specified drop locations.Please note our equipment and trucks may need additional space when offloading or dumping the   product you have ordered.

Refer to conditions below, but not limited to:

Overhead branches and wires.
Strength of asphalt or driveway surface during all weather conditions.
Strength of existing concrete or paving structures.
Weight and size of product being delivered.
Weight of the equipment used during delivery.
Inclination or angles of desired drop spot.
Compaction of earth in new developed areas.

If our drivers are not confident or able to meet your drop request, you may be called to arrange changes, and/or your products may be returned to our yard at your expense. Rescheduling of your product is subject to a delivery fee.
The purchaser shall accept responsibility of any damages, fines, or charges do to Norscape equipment dirtying the roads or product being placed on the road or location other then their personal property.
We offer split loads, meaning multiple products can be delivered at the same time. Our capabilities are determined by the weight and volume of the product requested. Our split system can save you money, and multiple drop spots can be requested to save you time and effort. All above requests are subject to our staff's approval. Minimal contamination of product is acceptable and is the discretion of Norscape Management.
We schedule deliveries in increments, based on a first come-first-serve basis. Please order well in advance to secure your desired time allotment as our traffic varies per season. Although we schedule deliveries appropriately to meet our objectives and commitments, factors such as traffic, accidents, changes in current deliveries, requests from clients for placement of product, and equipment failure, this may affect our daily delivery schedule. Norscape is not responsible for delays in delivery due to any circumstances beyond our control. We recommend confirming orders well in advance of your scheduled project, and having material delivered 48 hours prior to that date. Our drivers will generally call when preparing to delivery your order, providing an update on expected arrival time.
Any request for pick up of material or skids will be subject to the appropriate delivery fee.**
We do not require you to be present for your delivery, and we use your description and notes to meet your required drop spot. Please mark or define the desired location with chalk or another object to show us where to place your material. We are not responsible for dropping in an unmarked area, as notes can be misinterpreted. We also hold the right to refuse drop requests if the area has limited space for our equipment.
Norscape is not responsible for any change of colour, deterioration, or damage to product delivered resulting from time, age, or natural elements such as sun due to the placement of delivered product.
The quantity inscribed on the client's invoice shall serve as proof for the quantity delivered.
No claim shall be considered by the vender at any time after the products have been installed except for deficiencies accepted in the Norscape Warranty Policy, listed in the Terms & Conditions.**
Release of Liability – Any material delivered beyond curb line is responsibility of the customer. We require direction and/or signature to deliver beyond this point or to leave product on the road, therefore releasing Creative Landscape Depot, our drivers, and our contractors of potential damage, claims, and liabilities that can take place.
Yard in the bag products can be delivered with pavers, etc. if being delivered to the same address and combined weight is not over limit.
REFUND POLICY
All contaminated materials will be returned, and a refund provided without issue.
We do not provide refunds for loads that could not be dumped due to blocked driveways or cars in the way.
There is a 20% restocking applied to returned merchandise.
TERMS OF USE
We respect your privacy, so we do not automatically gather any personal information, such as name, phone number, e-mail or address. The information is only obtained if you supply it voluntarily to us.
We DO NOT under any circumstances lend, sell or otherwise distribute personal information or email addresses with any external or third party.
If you have any questions or concerns, please contact us