YES! We Deliver It!
To Orillia and surrounding areas
We deliver both small and large amounts.
Our products are sold at our Oro-Medonte location and we offer you the opportunity to pick up or delivery (call for pricing), whatever is easier for you!
Call us at 705-3251201 to order the product you need.
Yard in a Bag
Have your material dumped in your driveway, helps keep it clean and convenient in our neat and tidy 1-yard bags. The 1-yard bag allows a product to stay dry as it is closed at the top. The 1-yard bag is delivered by our boom truck, we do these deliveries on Tuesdays or Thursdays.
You can also pick up your materials at our Yard if you have a Truck or Trailer at 107 Forestview Road. See Map
$60 delivery charge for bulk materials in Orillia Area.  (Please note price will be confirmed when order placed, as price can vary in some circumstances)
All other areas are subjected to delivery charges based on your location, call in for pricing and we would be happy to help you
HOW MUCH DO YOU NEED?
Some Conversions for deliveries, truck or trailer…
Please find information below that may help you with your orders; if you have any questions please do not hesitate to contact us.
DELIVERIES – QUANTITIES
Yard in a Bag  is a bag that holds 1 Yard (volume) or 1 Tonne (weight) (approximately, depends on product)
Tandem can hold approximately 14 metric tonnes or approximately 10 yards.
TON VS. TONNE
In the United States, a ton is a unit of measurement equaling approximately 2,000 pounds. A tonne, also known as an imperial ton, is a unit of mass equaling approximately 2204.6 lbs or 1000kg
This equal a difference of approximately 205 lbs or 93kg
How many LBS can your Truck or Trailer hold!?
A light truck should be able to carry 800 pounds approximately
A Pickup truck is typically designed for half ton (1000 lbs or454.60 kg approx.)
A Three-quarter ton (1500 lbs or 680.39 kg approx.)
A One-ton (2000 lbs or 907.20 kg approx.) capacities.
Please look at your owner's manual, as this will tell you what your truck is rated for
(please remember to deduct weight of passengers in vehicle when picking up product)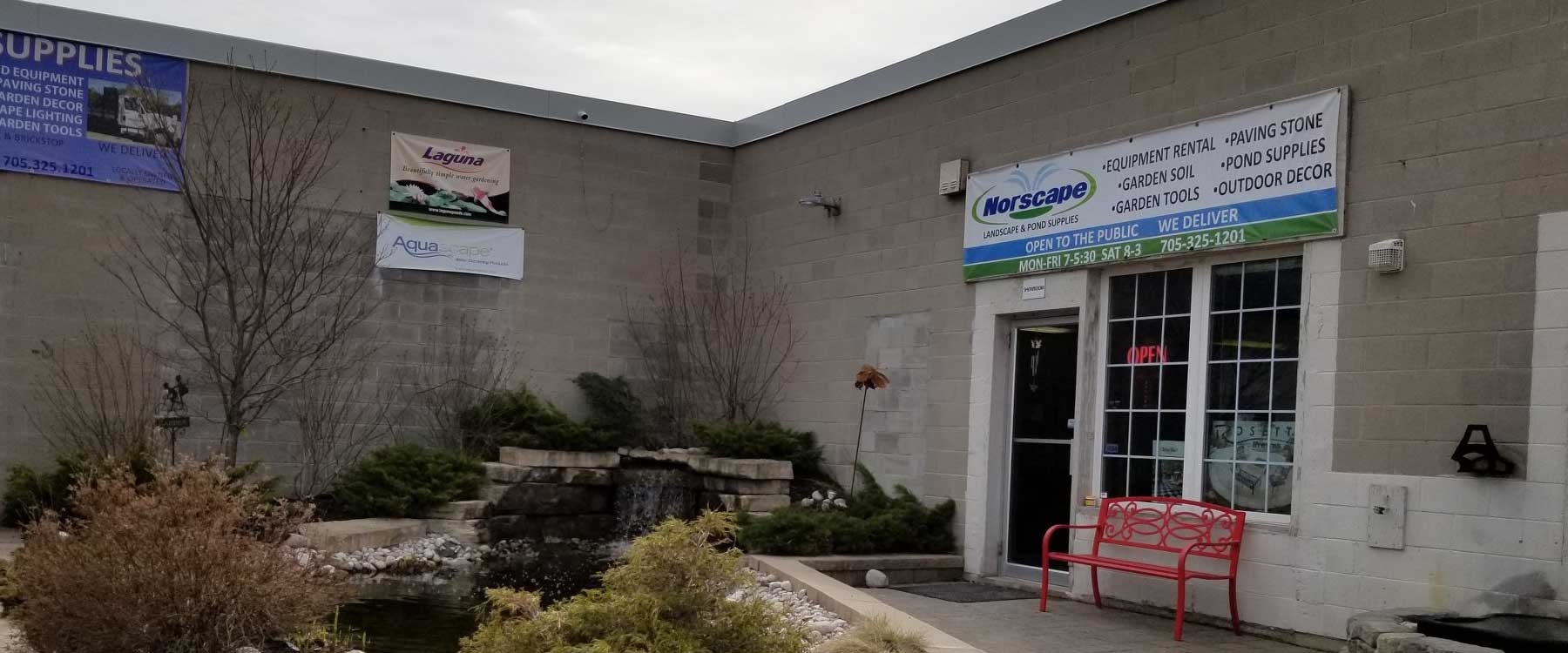 HOW TO FIND US
107 Forest View Road, Oro-Medonte, ON L3V 0R4
Our business hours are:
Monday to Friday: 8:00 am – 5:00 pm
Sunday: Closed
Phone: 705-325-1201
Email: norscape@bellnet.ca
DELIVERY POLICY
TERMS & CONDITIONS
Under no circumstances shall the company or its affiliates, partners, suppliers or Licensors be liable for any indirect incidental, consequential, special or exemplary damages arising out of or in connection with your access to company property.  Clients picking up product are responsible to ensure their loads are safe for transporting as per Highway act.
By placing an order through this web site, you agree to the following:
DELIVERY POLICY
We ask that you mark an "X" on your driveway with chalk or masking tape indicating where you want your load to be dumped.
A 15 feet wide by 20 feet long and 25 feet high space is required to allow the truck to easily back up to the "X" and dump the load. (of course this depends on amount ordered)
Your load may take up to 20 feet by 20 feet of space, which depends on the quantity ordered.
Provide us with a contact number in case we need to get a hold of you for some reason. Example: Area where X is not safely accessible, etc.…
Please ensure there are no overhead wires or low-lying trees where you put the "X" on your driveway.
If area not safe to unload for instance over head wires or low-lying trees, etc., our driver has the right to refuse to unload for safety reasons.
Norscape will not be liable for any damages to the property or individuals as a result of unloading on to the driveway.
REFUND POLICY
All contaminated materials will be returned, and a refund provided without issue.
We do not provide refunds for loads that could not be dumped due to blocked driveways or cars in the way.
There is a 20% restocking applied to returned merchandise.
TERMS OF USE
We respect your privacy, so we do not automatically gather any personal information, such as name, phone number, e-mail or address. The information is only obtained if you supply it voluntarily to us.
We DO NOT under any circumstances lend, sell or otherwise distribute personal information or email addresses with any external or third party.
If you have any questions or concerns, please contact us